'Misconceptions' easily dispelled
Download PDF version of article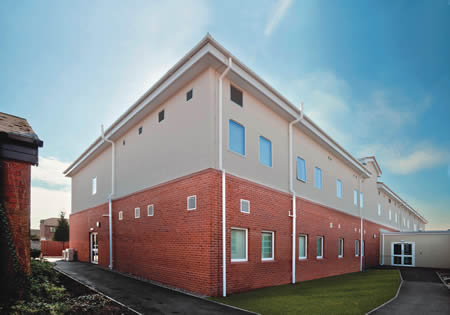 Many people's views of modular buildings – and particularly the 'misconception' that they offer neither the longevity nor performance of more 'traditionally' built structures – are based on outdated views, and fail to consider recent years' significant advances in modular building design, claims Wernick, reportedly the UK's largest independent hirer and manufacturer of modular and portable buildings.
Group marketing manager, Leigh Fennell, said: "Many people's perceptions stem from their experience of old, leaky, prefabricated classrooms. Before I worked in off-site construction, I shared some of these. However, I now realise the presumption that modular buildings are of low quality is easily dispelled. Firstly, they follow the same regulations as traditional buildings, and must thus meet the same quality standards. Building modules are produced in tightly controlled factory environments meeting ISO 9001 quality management standards, and often IS0 14001 environmental standards.
"Modular building facilities constructed for healthcare sites are built to the latest healthcare standards, including HTMs, HBNs, SHTMs, and HAI-SCRIBE – the Healthcare Associated Infection System for Controlling Risk in the Built Environment. Equally, many of the materials used, such as the steel frame, are exactly the same as those used for a traditional build – the only difference being that construction takes place offsite. While modular buildings can be used as a temporary solution, the quality of build means they are built to last. Many off-site construction companies now offer a 25-year warranty as standard with their buildings, which have an expected design life of over 100 years."
Leigh Fennell also highlights modular buildings' advantages in terms of cost efficiency and faster project completion. He said: "A report by Laing O'Rourke, which developed a modular system with an engineering company, suggested it could build a 1,300 pupil school for £14.3 million, £6 m cheaper than an equivalent school under the Building Schools for the Future Programme. With much of the modular construction process undertaken offsite in a controlled factory environment, projects can also be completed much faster than via traditional construction, with no delays due to bad weather. This greatly reduced programme also minimises the impact on the environment. Modules can be designed to a specifically optimised size to match the supplied sizes of the building materials, further reducing waste.
"Just like a traditional building, modular buildings are steel-framed, and can provide permanent accommodation solutions, including purpose-designed schools, hospitals, office blocks, police cells, and even nuclear power station accommodation." Typically, the 'end product' is a building with an Energy Performance Asset rating (EPA) of B as standard, with an 'A' rating easily achieved when sustainable options, such as solar panels, are incorporated.
See more about Wernick Buildings
Other News