Division's biggest project yet
Download PDF version of article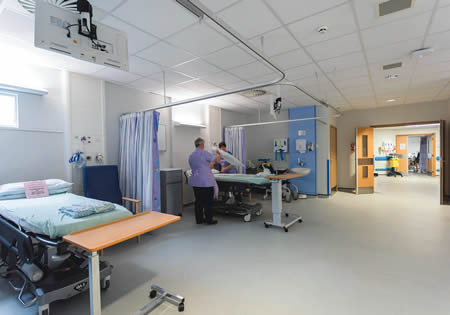 A 'highly complex', 4,200 m2 two-storey ward and theatre building at Royal Stoke University Hospital has been constructed by Portakabin Hire in under four months to help meet increasing demand for orthopaedic services.
The £13.5 m contract is the largest in the 52-year history of the Portakabin Group's Hire Division, and one of its most challenging schemes yet in terms of programme and site constraints. The structure was installed in just 18 days, which included weekend working to minimise disruption to the service provision, as there were fully operational wards adjacent.
The purpose-designed facility – which will be in use for the next five years – has provided 56 new inpatient beds, two large 'clean air' theatres for orthopaedic procedures, a recovery room, 'dirty' and 'clean' utilities, single rooms with en suite bathrooms, staff changing rooms, a reception, kitchenette, offices, a 33-person 'crash team' lift, and an integral plant room.
The new Orthopaedic Unit is constructed from 124 steel-framed modules, up to 14 m long, and weighing up to nine tonnes each.
Other News