Bespoke water safety training
Download PDF version of article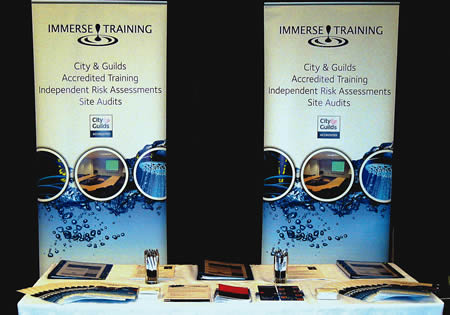 Immerse Training describes itself as 'a forward-looking, dynamic training company established and run by experts in the Legionella field'.
All trainers are working industry consultants – including international speakers and global co-authors on Legionella controls and Water Safety Plans. Courses can be delivered at customer sites; the training portfolio includes nine 'very competitively priced' City & Guilds-accredited courses specifically designed for those responsible for maintaining safe, healthy, high quality water systems.
The company said: "Our recently accredited Water Safety Plan (WSP) course is directed at healthcare organisations wishing to ensure the safety of their patients, staff, and visitors by using a WSP to comply with health and safety legislation and guidance, and prevent infection due to contaminated water and related assets. The staff to benefit most will be those involved with patient safety; notably estates and facilities and infection prevention and control teams.
"A WSP is now recognised internationally as the best approach to ensuring the safety and continuity of a healthcare facility's water supply, and is recognised and promoted in key healthcare guidance documents, such as the HTM 04-01: Addendum – Pseudomonas aeruginosa – advice for augmented care units, and the HSE's HSG274 Legionnaires' disease Technical guidance (HSG274) Part 2. If your training requirements are very specific, or are not covered directly by our courses, we can create bespoke training packages to meet your needs."
Bespoke
See more about Immerse Training
Other News