Specialist water system safety training
Download PDF version of article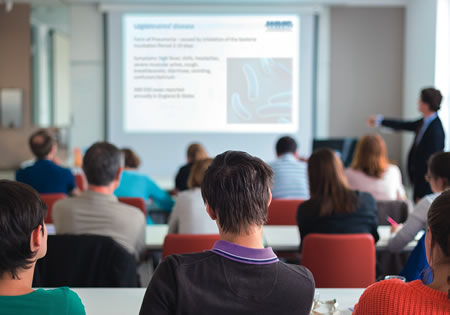 The Water Management Society (WMSoc), based in Tamworth, has provided practical and technical training courses to individuals and companies within the water management industry for over 20 years.
Its City & Guilds-accredited courses 'cover all aspects of water management within water systems and cooling systems', including Legionella risk assessment, Pseudomonas control and prevention, cleaning and disinfection, and temperature monitoring, sampling, and inspection. The Society said: "Our expertise in Legionella and Pseudomonas awareness enables us to give the most upto-date training relating to various water systems, including cooling towers, closed systems, and hot and cold water systems."
The WMSoc Training Centre incorporates its own Practical Training Area (PTA), where traditional instruction on the industrial and commercial management of water and systems is carried out. With two cooling towers and a simple water system set-up, course attendees can gain hands-on experience and demonstrate their competence.
The Society can also offer bespoke training on site at a company's premises for a number of delegates. Courses can be tailored to suit experience, and are available at both basic and advanced levels. All WMSoc courses include temporary membership of the Society, which gives attendees access to membership benefits and discounted rates on courses and events.
See more about The Water Management Society
Other News