A strategy for inclusive engineering education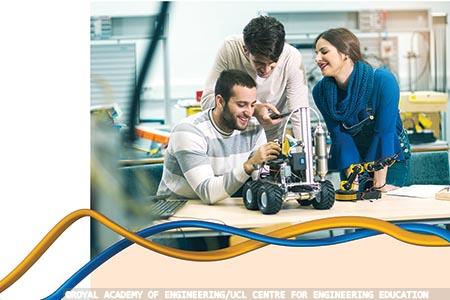 Leaders and educators in engineering in all higher education establishments should develop 'a five-year action plan for inclusive engineering education', a report published last month by the Royal Academy of Engineering (RAE) and the UCL Centre for Engineering Education argues.
Designing inclusion into engineering education offers 'a practical look at how diversity impacts on engineering', and offers universities 'strategies for change' to use in designing their courses. It also calls for professional bodies and learned societies to commit resources 'to address the knowledge and information gaps for inclusion', and for funding to benchmark inclusive education best practice.
The RAE explained: "The report proposes a model that breaks down all the elements of creating and delivering an engineering education to help departments find positive solutions and ideas for further consideration. It offers a structured approach to enable every department, school, and/or faculty to increase inclusion and diversity to:
Extend excellence in teaching of engineering and technology to address diversity and inclusion.
Create 'a safe, welcoming place that meets the diverse needs of students and educators'.
'Provide space for students to feel like they belong and can practice professional skills'.
'Grow career confidence of all students' to make the most of the talent within engineering.n 'Encourage innovation and diversity in solutions to problems'."
The Academy hopes to recruit universities to co-create and trial resources and materials to help implement the model.
According to the RAE, of the 15,000 UK residents graduating from UK engineering courses in 2015/16, 14.6% were female, and 26.1% from black and ethnic minority backgrounds. However, previous Academy research has 'highlighted unequal employment outcomes for engineering graduates both from ethnic minority backgrounds, and newer universities attended by less affluent students'. Via its Graduate Engineering Employment Programme, the RAE is 'working to create a more level playing field for all engineering graduates seeking employment'.
Report author, Dr Jan Peters, said "Addressing inclusion in engineering education is vital to address the skills gap with the number of women and black and minority ethnic students being so low."
Other News
Featured Supplier


GRAHAM
​

Building Magazine's 'Major Contractor of the Year 2017' Award
Turnover of £735m
Over 2200+ employees
Ulster Hospital named 'UK's Most Considerate Site' at Considerate Constructor Awards 2017
Ranked 16th in annual Sunday Times Grant Thornton Top Track 250 (2017)
IIP Platinum and Wellbeing...