Bender UK signs exclusive distributor agreement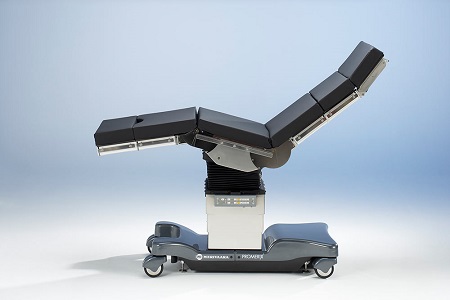 Bender UK has signed an exclusive distributor agreement with Merivaara of Finland to supply operating tables to hospitals and healthcare facilities in the UK and the Republic Ireland.
Bender UK, which has an existing agreement with Merivaara to supply the award-winning Q-Flow surgical lights, says that the Merivaara Practico and Promerix Operating electro-mechanical mobile tables are 'a natural fit' to complement its turnkey healthcare, offering both patient comfort and practical flexibility. A wide variety of configurations and accessories enable fast and easy set-up. The tables offer up to one-week battery life between charges, and incorporate an integrated charger / transformer, enabling optional main power use.
With over 100 Merivaara operating tables already installed UK-wide, Bender UK can now offer new and existing customers a fully comprehensive maintenance package as part of its service operation. A Merivaara table in the new operating theatre equipment demonstration area at Bender UK's Ulverston head office enables clinical staff to get hands-on experience. The theatre also includes Merivaara Q-Flow surgical lights, Bender clinical pendants supplying gases, power and data in the theatre, and theatre control panels.
Bender Clinical Sales manager, Sam Parry, said: "I worked with the Merivaara Practico and Promerix in a previous role and found the products well received in NHS and private hospitals. The Promerix table is ideal for multi-disciplined operating theatres, utilising the one table for all types of surgery, while the Practico table is perfect for day surgery theatres, shoulder surgery and orthopaedics, utilising its wide height adjustment range and factory fitted shoulder section".
Other News