Advanced paediatric surgery facility completed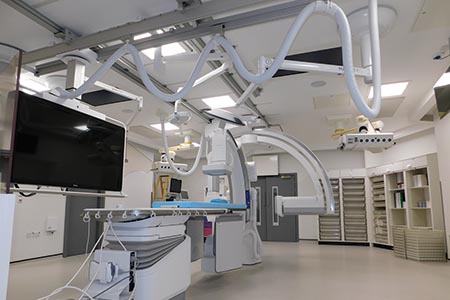 Leeds Teaching Hospitals NHS Trust and BAM Construction have completed a new children's cardiac hybrid theatre and intra-operative MRI facility at Leeds Children's Hospital on the Leeds General Infirmary site, creating a new dedicated environment for paediatric cardiac surgery and paediatric neurosurgery.
Extending the fourth floor of the hospital's Clarendon Wing, and built on eight raking columns up to 17 m long, the new theatre complex will improve the care provided to young patients with complex congenital heart disease, and those undergoing neurosurgery. The cardiac hybrid theatre allows cardiac surgeons and cardiologists to perform surgery simultaneously, meaning that the skills of both specialists can be employed together, reducing treatment time. The GE 3-Tesla high field intra-operative MRI scanner – the UK's first – allows scans to be undertaken during neurosurgery.
Working with the surgeons and clinical/ project teams at Leeds Teaching Hospitals NHS Trust, Starkstrom supplied and fitted KLS Martin V16/10 Lights with HD camera capability and its S300 pendants and theatre control panels. It says its equipment 'integrates seamlessly' with the Brainlab Buzz 'neuro-navigation' system installed in the new facility, the UK's first clinical such system.
John Goodden, consultant neurosurgeon (Adult & Paediatric), Leeds General Infirmary, and clinical lead for Paediatric Neurosciences, Leeds Children's Hospital, said: "The installation of new theatre lights, a control panel, and two new pendants, has been straightforward. The lights are very good quality, with excellent illumination of the operative field, and flexibility to adapt the beam to our needs. They also incorporate a great in-light camera that aids teaching and training. The pendants are smooth and easy to operate, and the control panel clear and easy to navigate. The touchscreen layout is intuitive and works well. We have been impressed by the quality and professionalism of the Starkstrom products and staff."
The combination of the GE 3-Tesla high field iMRI, Brainlab Buzz Navigation, and KLS operating lights and arms, represents a first in the UK.
Helen Rucklidge, the Trust's Project Team Corporate Planning manager, added: "The Intraoperative MRI and Hybrid Cardiac Theatre Project Team have been very impressed with the professionalism of Starkstrom throughout. Starkstrom was positively engaged in the project's early stages, and has regularly consulted with us and other manufacturers to ensure compatibility and full integration, and make sure that its engineers were available to meet not only the overall programme, but also that of building trades and other specialist equipment manufacturers with whom its equipment had to integrate."
Other News