Endoscopy capacity boosted at St John's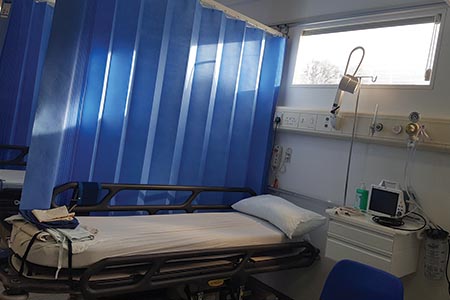 A UK medical technology company is helping a Lothian hospital increase its capacity for endoscopy examinations and reduce waiting times.
Vanguard Healthcare Solutions is working alongside NHS Lothian at St John's Hospital in Livingston, where it is providing a mobile endoscopy suite to increase capacity for examinations including gastric, bowel, and chest procedures. Designed and built by Vanguard, the suite includes a reception, waiting area, consulting room, admission/discharge area, procedure room, recovery ward, toilets and changing room, refreshment area, utility areas, clean processing room, one-way flow for scopes, pass-through endoscope washer/ disinfector, dedicated decontamination area, and an ultraviolet light endoscope storage cabinet. The suite has HEPA filtered environmental air, which conforms to Grade C EUGMP standards.
In use since late last year, the mobile endoscopy suite is expected to be on site for up to two years. Vanguard is also providing clinical support staff to work alongside the hospital's own endoscopy clinicians. Vanguard senior account manager, Simon Squirrell, explained: "The unit will help NHS Lothian see hundreds of patients more quickly, with up to 10 appointments a day scheduled. The feedback we've had, both from clinicians working on the unit, and from patients, has been extremely positive."
Other News