Bringing dialysis to Irish communities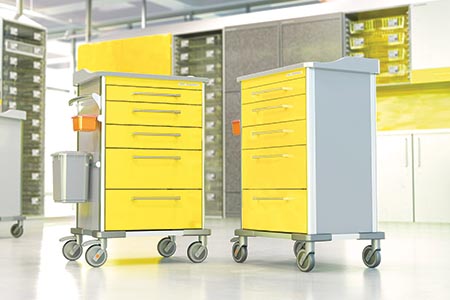 Medstor has provided essential healthcare materials handling and management solutions for Ireland's first purpose-built haemodialysis clinic, in County Wexford.
The facility can treat up to 60 patients per week in 12 isolation bays, three isolation rooms, and a self-care area. The provision of services closer to patients' homes means they will no longer have to travel up to three times each week to Waterford University Hospital, over an hour's drive away.
Working with main contractor and clinic operator, B. Braun Avitum, Medstor delivered a range of trolleys, trays, and lidded boxes for efficient storage of general items, and more specialised clinical equipment in the form of mobile module carts. The carts come in a wide range of materials, finishes, and colours, with brilliant yellow selected to complement the clinic's design. Medstor, which had only two weeks to design and manufacture the goods, says its 'unique' module carts are multi-functional storage units, each designed specifically for its operating environment. The company said: "In addition to being impressed by the carts' functionality, Stephen Byrne, operations manager at B. Braun Avitum, was impressed by their look, feel, and quality. As well as ordering several general carts for storing treatment consumables, he commissioned a specialist Resus Cart, without which the clinic could not open. The easy-to-store, highly manoeuvrable Resus Cart provides a platform for the equipment and consumables needed at a moment's notice for in-clinic resuscitation."
Other News