Innovation in pneumatic tube systems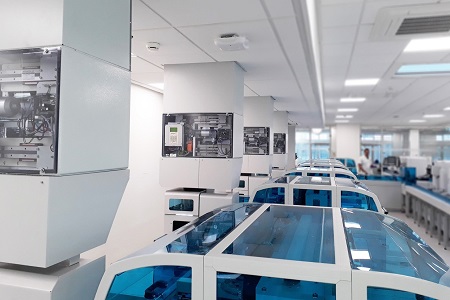 Sumetzberger has provided worldwide-support for hospitals 'in the future-oriented optimisation of internal transport logistics' since 1967. The company explained: "Together with our clients, we design customised transport solutions for blood samples, medicines, and much more, to ensure improved patient care.
Nurse stations, laboratories, and pharmacies benefit from a reduction in routine manual work, full traceability, and fewer errors. Direct connection to both pharmacy and laboratory roads ensures high levels of safety and quality in the patient care."
With an increase in patient numbers, a need for more detailed documentation, and legislative changes putting the hospital system under more pressure to reform, Sumetzberger says achieving high patient satisfaction, using hospital staff optimally, and working as efficiently as possible, are daily challenges for many hospital managers. It said: "Blood laboratories play a key role in the optimisation process. In 90% of cases, results from such labs form the basis for any further hospital treatment. Shorter waiting times between blood collection and laboratory results greatly increase patient satisfaction."
Working closely with hospitals worldwide, Sumetzberger says it has addressed 'the missing link' between pneumatic tube systems and the laboratory road. It explained: "For the first time, this allows a direct transfer of blood samples to blood analysis without the need for manual intervention, and with minimal adaptation to existing processes. This reduces, to under an hour, waiting times on standard laboratory results, with the results of special tests back even faster."
The quality and integrity of blood samples are its key focus, the company explains. "Alongside the shock-free transfer of blood samples from pneumatic tube systems to laboratory roads, key requirements for the system included an emergency exit and the option of temporary storage," Sumetzberger explained. "Our patented AutoUnload carrier is equipped with specially developed carrier inserts."
In June 2016, Sumetzberger initiated an evaluation of the transfer system with blood indicators at the Kaiser-Franz-Josef-Hospital in Vienna. Since then, it says millions of blood samples have been analysed more quickly and efficiently, while fully automated laboratories using the system were put into operation in 2018 at the Aarhus University Hospital in Denmark, and this year at the Hospital Floridsdorf North in Vienna.
With demand for automated processes as part of patient care increasing exponentially, Sumetzberger says it has already installed pneumatic tube systems in over 1,000 hospitals worldwide. Working with local partners, its priority is to develop technology that ensures that its pneumatic tube systems 'can easily be adapted to new challenges with minimal effort'.
See more about Phil-Tec Ireland Ltd
Other News