ENT and dental clinic with 'hotel-like feel' completed at UCLH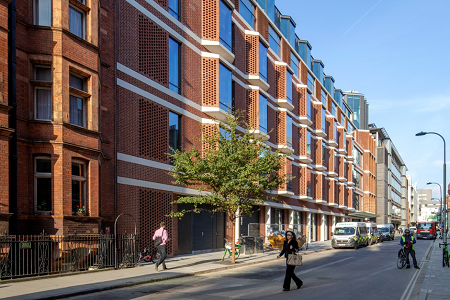 Architecture and urban design studio, Pilbrow & Partners, has completed what it dubs a 'state-of-the-art' ear, nose, throat, and dental specialist facility at University College London Hospital (UCLH) for the University College London Hospitals NHS Foundation Trust.
UCLH Phase 5 marks the latest addition to the hospital's main campus regeneration, replacing two vacant former buildings to provide a specialist, modern hospital facility in central London. Located on Huntley Street, near Euston, the site sits at the heart of the Bloomsbury Conservation Area, adjacent to listed residential neighbours. A recessed roof terrace provides a landscaped garden for staff and patients. The scheme has co-located diagnostic and treatment facilities with other Trust departments, to reduce waiting times and the need for additional appointments.
Pilbrow & Partners said: "The new building (constructed by Mace) offers clinical, organisational, and programme benefits, as well as improvements to the townscape. Traditionally, such buildings are planned with clinical spaces at the façade, and waiting areas at the core. The internal strategy here, by contrast, inverts this, with waiting areas on the street façade set in a range of bay windows. These bays' form and detail offer a contemporary reinterpretation of the bays of the adjacent 19th century mansion blocks." Examination rooms and teaching spaces are located centrally. A welcoming and spacious entrance lobby, accessible from the building's front or back, brings natural light in, and 'creates the impression of a hotel lobby, rather than a hospital waiting room'.
The building façade comprises 248 5.5 m wide prefabricated bays, a 'hybrid' of traditional hand-made bricks, precast concrete, aluminium, and glass. Each of the 160,000 bricks was hand made via traditional techniques to achieve material and colour consistency, 'lending a solid character in the views from the conservation area'. By contrast, views from the hospital campus, looking south, are more transparent, where the full-height glazing of each bay is prominent.
Senior founding partner, Fred Pilbrow, said: "Too many hospitals are disorientating, scale-less, and lacking in daylight. They make the hospital experience more stressful, and add to patient anxiety. At UCLH Phase 5 we wanted to do something very different, with logical patterns of circulation, and generous daylit spaces. The health and well-being of the clinical staff were of equal importance, and support spaces also benefit from daylit social spaces and circulation."
The project was undertaken alongside executive architect, BMJ Architects. Marc Hilliard, an Associate at BMJ, said: "The construction delivery phase is often the point at which pioneering design is most at risk of being watered down. Through positive collaboration, Phase 5 succeeds in maintaining the ethos of the façade design concept, maximising daylight, and successfully realising key masonry features, while introducing innovative offsite techniques. The clinical and waiting spaces, which can be compromised on tight inner-city sites, exceed expectations in terms of the quality of environment. The well-considered patient flows, organisation, and planning, enable UCLH to meet its goal of improving quality of care."
Recently opened, the new healthcare facility pulls together the specialised treatments formerly provided by the Royal National Throat, Nose and Ear Hospital and the Eastman Dental Hospital, which collaboratively support over 200,000 outpatient appointments annually.
Other News