Award for sanitary assembly specialist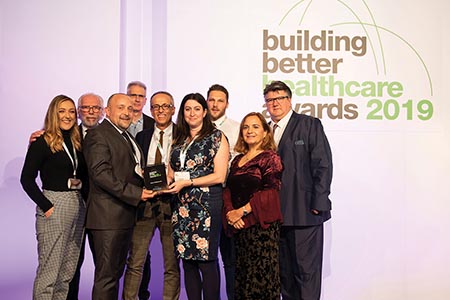 Total Laminate Systems, the sanitary assembly and IPS unit manufacturer, received the Best Interior Building Product award at November's Building Better Healthcare Awards 2019 at The Brewery in the City of London
TLS was recognised by for its manufacture, supply, and installation of sanitary assemblies, IPS units, and other assemblies for the new Chase Farm Hospital in Enfield, having worked with the hospital redevelopment team, IHP, and IBI, to identify and deliver a broad 'package' of such products for the new £200 m acute general hospital. The package comprised over 500 products, including Clinical Wash Hand Stations, scrub troughs, systems for 'dirty and clean utilities', disabled wall panels, en-suite products, toilet cubicles, vanity units, and items for theatre 'prep' areas. The judges recognised the TLS products for their 'uniqueness', and their compliance with the requirements of HBN 10, including:
A consistent product solution and associated costs across all areas, 'with colour palette departmental identification' and wayfinding, and coordinated panel systems integrated into the internal design.
Attention to the need for ease of maintenance and compliance with infection prevention and control protocols. The Compact Grade Laminate (CGL) material undergoes an antibacterial treatment during manufacture.
Ease of cleaning – 'unit finishes are smooth, seamless, durable, and impervious, with no sharp edges, joints, or frames'.
Lifetime costs – the CGL carries a 10-year warranty.
Value engineering was prominent 'from conception', with all materials and fittings evaluated and discussed with the Department of Health & Social Care.
A recycling policy that includes product design to avoid waste, reduce energy consumption, and increase recycling opportunities.

The TLS range of sanitary assemblies, IPS units, and cubicles, has also been approved as Category Components for the ProCure22 Construction Procurement Framework.
Other News