British company's rapid response to Chinese hospitals' request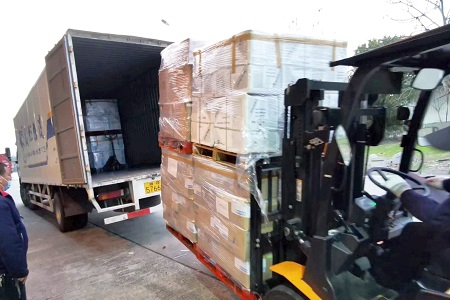 UK infection control company, GV Health, has delivered 9.5 tonnes of infection control equipment and healthcare disinfectants for use by medical staff in Chinese hospitals.
Following an initial approach to the company's office in Beijing from a government agency, the Chinese embassy in London stepped in to assist with the procurement, ensuring that the necessary export licenses, documentation, and shipping arrangements were in place. In total over 14,000 items of high-grade medical protective clothing and goggles have been delivered so far. The entire order – from initial enquiry to delivery to the distribution centre in central China –was fulfilled in six days.
GV Health has also donated supplies of its SoChlor TAB and SoChlor DST healthcare disinfectants. The company said: "Hugely important during the West African Ebola outbreak, SoChlor is an advanced chlorine-based range of professional healthcare disinfectants with a proven track record of preventing the spread of microbes such as the Corona virus, SARS, MERS and Ebola."
Commenting on the support given to China by the British business community to fight the current epidemic, China's UK ambassador, Liu Xiaoming ,said "Since the outbreak of pneumococcal infection caused by the new corona virus, the British business community has paid great attention and has donated funds and supplies through various channels to support the Chinese government and people in preventing and controlling the epidemic.
"It is understood that the British HSBC Group, Jaguar Land Rover, GlaxoSmithKline, and Standard Chartered Bank have announced their donations. GV Health donated 270 boxes of disinfection and sterilisation materials to domestic hospitals."
The protective suits, infection control equipment, and disinfectants sent to China are identical to those used by the British army task force sent to West Africa during the Ebola crisis. GV Health says it supplies the majority of governments and aid agencies involved in the fight against Ebola in Africa.
GV Health MD, Catherine Pegna, said: "As one of the world's leading specialist healthcare infection control companies, we are proud to be able to draw on our knowledge and experience to help contain the spread of the Corona virus outbreak. The high stock levels we maintain for this type of emergency meant our warehouse in Stevenage was able to respond in record breaking time. We look forward to continuing our co-operation in China and elsewhere to ensure this threat is successfully contained."
Other News