'Green light' for plans for 'world-leading' Moorfields facility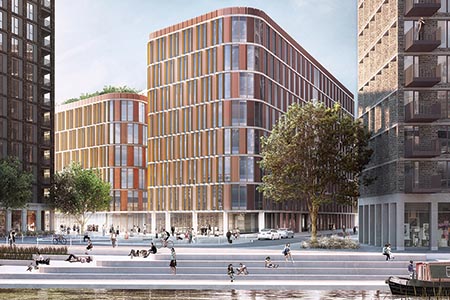 Plans to build a 'world-leading' eye care and research centre in central London have been agreed at a special decision making meeting on 12 February.
A Committee in Common – a group of 14 Clinical Commissioning Groups (CCGs) from in and around London – considered and agreed plans from Moorfields Eye Hospital to create a new integrated eye health centre. The decision means plans for 'Oriel' – a proposal 'to bring together excellent eye care, ground-breaking research, and world-leading education in ophthalmology', on one site – can now move forward to focus on designing how the new centre could look and 'work' for patients and staff. The proposal is a partnership between Moorfields Eye Hospital, the UCL Institute of Ophthalmology, and Moorfields Eye Charity, which would see Moorfields Eye Hospital move its City Road services to the St Pancras Hospital site in Camden, where a new integrated facility housing the three partners will be built.
Camden CCG, in partnership with NHS England Specialised Commissioning, ran a public consultation to understand how patients, the public, and a range of partners could be affected. Final approval will be subject to approval of the full business case.
Other News