Components for 'life-saving' breathing aid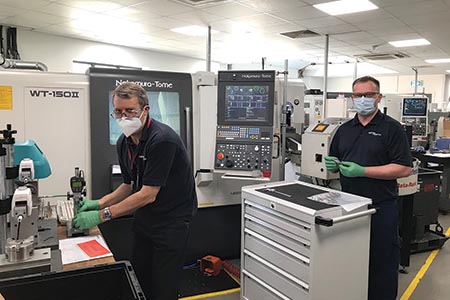 Industrial steam specialist, Spirax Sarco, has been machining a critical component part for use in the UCLVentura breathing aid, a Continuous Positive Airway Pressure (CPAP) device being used to provide potentially lifesaving oxygen to COVID-19 patients.
The company responded to an urgent enquiry from Mercedes-AMG High Performance Powertrains – which is working with University College London – asking if it could produce the component at its Cheltenham plant. The part is a special design quick-fit connector that helps safely manage the flow of oxygen, ensuring that as many patients as possible can receive the vital supply they need. In under a week, Spirax Sarco completed a technical evaluation, wrote the programs required to manufacture the part, produced the first samples, had them reviewed and approved, and commenced around-the-clock production, which will continue until the order is fulfilled.
Spirax Sarco began by producing 300 parts every 24 hours, but quickly increased this to 450 parts. Collections from the factory occur every few hours, to ensure no delay to the assembly and shipment of the completed devices.
Other News