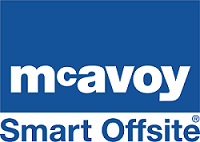 McAvoy Group
76 Ballynakilly Road

Dungannon
Co Tyrone
BT71 6HD
United Kingdom
028 8774 0372
COMPANY INFORMATION
The McAvoy Group is one of the UK's leading offsite construction specialists. An independent, family-owned business and an established principal contractor, McAvoy has been providing bespoke offsite solutions and interim modular buildings for more than 40 years.
McAvoy has extensive experience in developing bespoke building solutions for highly constrained hospital sites and in minimising disruption to patient care during construction. Sites that are completely inaccessible for traditional construction can be developed and existing facilities can be expanded rapidly and cost effectively, both vertically and horizontally.
An Impressive Healthcare Portfolio
With an impressive portfolio of healthcare projects across the UK, McAvoy has successfully delivered ward accommodation, operating theatres and laboratories, consulting suites, endoscopy units, primary care facilities, and community health centres. Each project is designed to meet the precise requirements of the healthcare provider and the site.
The Group also supplies interim buildings to help NHS trusts increase capacity at peak periods or for decant use while other hospital facilities are refurbished or redeveloped.
McAvoy is accredited under the LHC Modular Buildings Framework, NHS Shared Business Services, and the Southern Modular Building Framework.
The Benefits of McAvoy Offsite Solutions
McAvoy delivers fast-track modular building projects of the highest quality, with less impact on the environment and greater assurance of completion on time and on budget. It is also committed to meeting the innovation and process targets highlighted in the Government's Construction 2025 strategy, which aims to reduce emissions, and reduce the trade gap between construction exports and imports.

The Group has two purpose-built manufacturing centres spanning more than 120,000sqft and is leading the industry in its application of BIM and virtual reality. These new technologies optimise efficiency and enhance collaboration from design to manufacture and site installation. McAvoy is the only offsite specialist to be accredited to BIM Level 2.
Harnessing Digital Construction Technology
Innovation and technology are key drivers behind all of McAvoy's operations and BIM is an increasingly critical element in its design and programme planning.
Harnessing BIM Level 2 enables McAvoy to achieve optimum energy efficiency, through intelligent virtual design team collaboration, enhanced manufacturing and site installation methodologies, earlier engagement with stakeholders and better management of resources.
McAvoy is also accredited with Business in the Community's CORE standards which measures commitment to improving resource efficiency.
Collaboration and Partnership Working
McAvoy has a long established and trusted supply chain underpinned by its commitment to the adoption of an open BIM approach. The Group recognises that collaboration and knowledge-sharing are essential and work with the supply chain at every level from the earliest stage.

Early engagement is vital to the success of any offsite project and McAvoy is committed to ensuring that clients, technical advisers, planners, engineers and architects work together from the outset as part of a cohesive and professional team.
SOLUTIONS
Permanent bespoke offsite solutions
Interim healthcare buildings for hire