Power Control Limited
Systems House
Rotherside Road
Eckington

Sheffield
S21 4HL
United Kingdom
01246 431431
COMPANY INFORMATION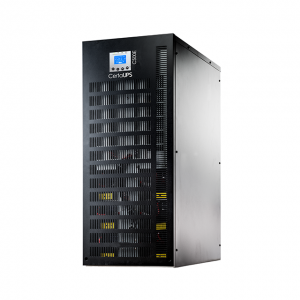 The detrimental effect a loss of power can have on critical lighting has been overcome for decades with the use of emergency lighting systems especially in public buildings. Backup power, usually in the form of a central battery system, is essential for critical and emergency lighting. Traditionally UPS have been overlooked for lighting applications.
However, a UPS should be considered for use as a central battery system and a battery backup solution. In many cases this would provide considerable cost savings over older technology such as central battery systems and lighting inverters.
UPS FOR CRITICAL MAINTAINED EMERGENCY LIGHTING
Uninterruptible power supplies (UPS) are a fundamental part of a hospital's critical power infrastructure and in the event of a power outage it is of upmost importance that medical operations are not disturbed by critical lighting failure. Critical or maintained emergency lighting is designed to be run normally whether even in the event of a mains failure.
Having a UPS continually supporting critical lighting is a cost effective and reliable way to provide battery backup for anything from a few minutes to a few hours. Using a UPS can negate the requirement for expensive traditional none maintained emergency power systems.
Our unparalleled knowledge of the intricacies associated with operating lights and a hospitals reliance on their critical lighting infrastructure means we are trusted by leading healthcare authorities across the UK.
UPS FOR NON-MAINTAINED EMERGENCY LIGHTING
Emergency lighting is for an emergency situation when the power supply is cut and any normal lighting fails. Emergency lighting is normally required to operate fully automatically and give illumination of a sufficiently high level to enable all occupants to evacuate the premises safely. This design is also known and none maintained emergency lighting. The UPS systems is used to supply the emergency lighting from a standby state.
CONSIDERATIONS FOR CRITICAL LIGHTING UPS
Whether being used to support critical lighting or maintained/none maintained emergency lighting the size of UPS needs to be considered to support any lighting inrush currents and step loads. The battery backup needs to support the design load at the correct autonomy.
Power Control provides expertise in delivering the correct UPS solution for the healthcare market and has done for over 25 years.
CONSIDERATIONS FOR BRITISH STANDARDS
BS EN 50171:2001 Specifies central power supply systems for emergency lighting luminaries. If these standards are applicable the UPS should be BS EN 50171 compliant. Power Control offer BS EN50171 UPS systems for new installations or for replacement central and inverter backup systems.
PRODUCTS AND SERVICES