Mobile decontamination unit installed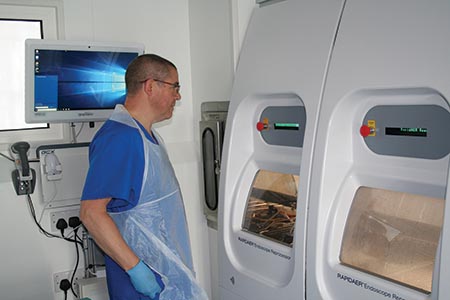 Vanguard Healthcare Solutions, which has recently launched a range of mobile endoscope decontamination units, has installed one of the first at Oxford's John Radcliffe Hospital.
The suite will be on site for nine months while the hospital creates a larger, improved permanent facility. It will be able to decontaminate up to 120 endoscopes used in a procedures including colonoscopies and gastric examinations daily
The HTM-compliant unit, designed in accordance with JAG guidelines, has separate entrance and exit doors, with its workflow ensuring that dirty and clean scopes are always separated. Vanguard said: "It provides a spacious, climatecontrolled work environment with natural light through windows and glass doors, and a staff welfare area, all designed and equipped in consultation with frontline clinical staff. The suites have been designed to enable hospitals to continue to run endoscopy services when their own in-house decontamination areas are running at full capacity, or when equipment needs replacing or is out of service."
Other News
Featured Supplier
HAC Medical Gas Training & Services Ltd. is part of the HAC group of companies that includes HAC Technical Gas Services Ltd. and Medical Piped Gases Ltd. Both companies provide maintenance and installation services respectively for medical and laboratory gas pipeline systems throughout the healthcare and R&D sectors
HAC Medical Gas Training &...