Flooring re-launch 'inspired by Mother Nature'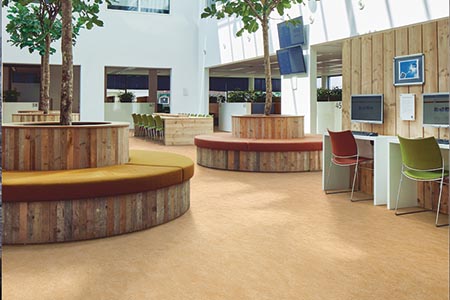 Forbo Flooring Systems' re-launched Marmoleum Marbled collection was, it says, 'inspired by the breathtaking colours and textures found within natural landscapes'.
The company added: "With an independent Environmental Product Declaration confirming carbon neutral status in the production phase, Marmoleum (2.5 mm) also helps to minimise the embodied carbon of a building."
Comprising five 'organic structures' – two newly developed – the collection 'represents a walk through nature'. Fresco has a soft marbled structure, which is available in colours ranging from 'subtly blended tone-on-tone shades that form a delicate aesthetic', such as a lavender lilac, to 'exciting bright and trend-led shades', like lemon zest and ruby. Real is Forbo's 'classic blend', with 'warm neutrals and calm greys', while Vivace is 'the liveliest blend', manufactured from six to eight colours. Forbo said: "The differentiated elements combine to create a chameleon-like product that adapts to a multitude of interiors."
New design blends include Terra, a 'tight and highly contrasting small-scaled marbled structure inspired by igneous rocks, available in an authentic mix of natural shades', and Splash, 'which, from a distance, appears light grey with a slight nuance in tone, yet up close it is an overall light grey with the flecks of colours peeking though'.
Other News