Pressure-balancing mixer for healthcare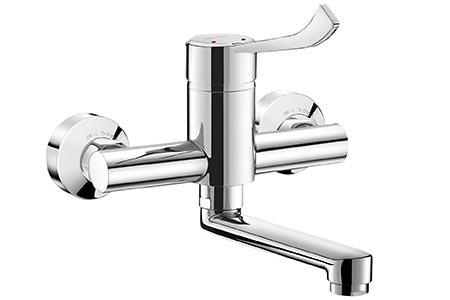 Delabie has launched a new pressurebalancing mixer – available with 200 mm and 150 mm centres – which it says 'is ideal' for public areas in healthcare facilities, and provides a mechanical alternative to its successful Securitherm thermostatic mixer.
The mixer's ceramic cartridge is sensitive to pressure changes. An internal shuttle continually adapts to the incoming water supply pressures, ensuring a constant mixed water temperature at the outlet. If the pressure suddenly drops at the cold inlet, the shuttle reacts immediately, reducing the hot water flow to a trickle, while should the hot water supply fail, the pressure loss causes the shuttle to close the cold water flow to a trickle
The mixer's body is thermally insulated; hot water flows from the inlets to the cartridge inside narrow copper tubes, and is never in contact with the mixer walls. Delabie says any risk of burning is thus removed. The mixer also features a maximum temperature limiter to reduce scalding risk.
Delabie said: "The interior was specifically designed to reduce the volume of standing water in the body. Fewer components are in contact with the water, reducing biofilm attachment. All the internal parts, including the spout, are completely smooth, considerably reducing the risk of bacterial development. The ergonomic 'Hygiene' lever enables control without manual contact, using the wrist, forearm, or elbow."
Other News