Fulton's VSRT steam boiler's 'world-first' design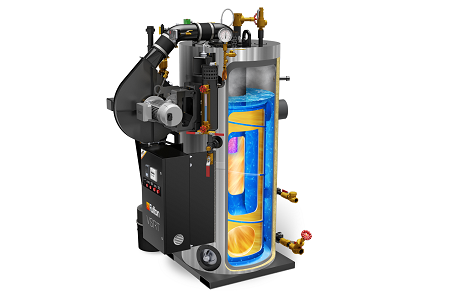 Launched in 2018, Fulton's VSRT steam boiler is described by the company as 'unlike anything the industry has seen before'.
Fulton explained: "With a radical, world-first design, the boiler is built for durability and a long lifetime, and boasts the highest efficiencies and ultra-low NOx emissions as standard; these features mean it is also catching the eye of those judging product and innovation awards. At the recent Institute of Gas Engineers and Managers' (IGEM) Gas Industry Awards 2019 at the London Hilton, Fulton's VSRT claimed the Product of the Year award, the vertical steam boiler's third award in six months. The company's MD, Carl Knight, said: "The double-award-winning VSRT becomes a multi-award-winning steam boiler, and we couldn't be more delighted with this Product of the Year award. The boiler was up against stiff competition, which we hope proves just how impressive this next-generation system is, and how much hard work has gone into developing it."
With over 15 patents pending in three continents, the VSRT's spiral-rib heat exchanger is claimed to be a world first. Fulton says the boiler attains 'industry-leading' heat transfer rates thanks to its 'unique' spiral design, which achieves low stack temperatures by passing the flue gases through a spiral-wound heat exchanger fully immersed in water.
"The PURE technology approach adopted for the VSRT aims to enhance heat transfer, provide class-leading efficiencies, improve steam quality, and reduce NOx emissions," Carl Knight explained. "Rather than simply try to improve existing products to achieve these goals, PURE technology challenges the industry status quo on conventional boiler design by engineering solutions that are fit-for-purpose and fully-optimised for all applications."
See more about Fulton Boiler Works Ltd
Other News