Children supported by beach-themed inclusive washroom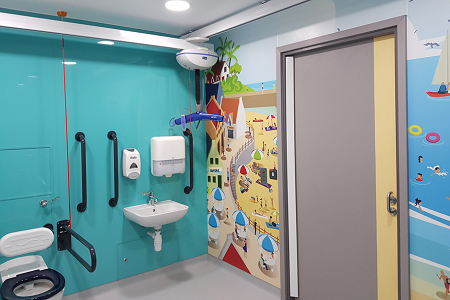 Armitage Shanks has worked with Royal Preston Hospital to create an inclusive new children's washroom for the hospital's paediatrics ward featuring a sunny beach theme, to put the children being cared for, and those around them, at ease.
The washroom specialist was selected due to its 'long and successful track record' of working with the Department of Health to develop products for specialist washroom areas. The project involved the refurbishment of the children's washroom, and included the installation of grab rails, back supports, and a hoist, to help young patients with physical limitations. Back-to-wall supportive toilets, incorporating an anti-microbial glaze, were also supplied.
Armitage Shanks says the project has created a space which minimises
A the chances of patients slipping and falling, while the products installed ensure the washroom is wheelchair-accessible and safe to use for even the most vulnerable patients.
With the renovation taking place within a working hospital, minimising disruption was a priority. All the products specified are purpose-designed to be easy to install and simple to maintain.
Paul Collier, senior estates manager, Royal Preston Hospital, said: "Armitage Shanks is synonymous with innovation and quality, making it our first-choice supplier for our paediatric washroom refurbishment. We know the brand well, due to its infection control expertise, inclusive-focused designs, and scientific approach, so wanted to get it involved from the onset."
See more about Ideal Standard (UK) Ltd
Other News