Stainless steel WC now in a white finish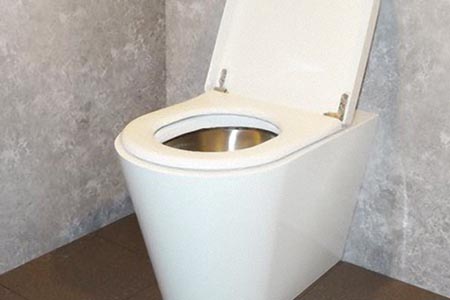 British manufacturer, Pland Stainless, has introduced a new white powder coated version of its 'popular' Atlanta 2 back-to-wall WC pan.
It says the new model 'offers the same hygiene and strength properties as stainless steel, but in a clean white finish'. The Atlanta2 model stands 400 mm high by 360 mm wide, with a 580 mm projection from the wall. Supplied in 304 grade stainless steel, but available in 316 on request, it has been designed to be suitable for use with all leading WC frames. The rear inlet pan has the option of a 'P' or 'S' trap, and comes with a white heavy duty seat and cover, 'ideal for high traffic commercial applications'.
Pland Stainless says it designs and manufacture 'a huge range' of stainless steel products largely for the commercial sector, supplying the healthcare, sanitaryware, washroom, laboratory, education, catering, janitorial, and secure accommodation marketplaces. A 'growing and significant proportion' of its business comprises bespoke products where its technical team works with the client to design stainless steel products 'that deliver specific solutions', using the company's in-house CAD/CAM and 3D modelling technology.
Other News