Italian-made grab rails with antimicrobial protection now available in UK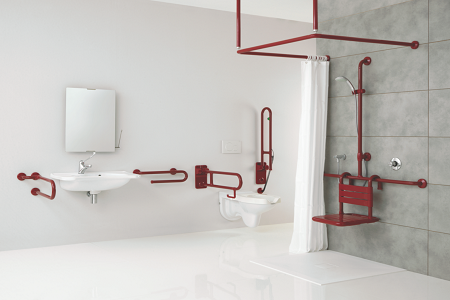 Intastop can now offer UK healthcare customers an Italian-made range of grab rails with antimicrobial protection and 'anti-slip credentials'. The Tubocolor grab rails from Ponte Giulio are 'warm-to-the-touch', and have 'a non-slip, yet smooth' finish. Intastop says they 'bring a new dimension of safety and infection control to more elements of building interior specification, in both new build projects and refurbishments'.
"We are delighted to have formed a partnership with Ponte Giulio," explained Intastop Marketing manager, Lisa Turner. "Its grab rails complement our range of door and wall protection products, and their antimicrobial properties allow us to extend and enhance the solutions we have for the care home and healthcare sectors, where such requirements are in high demand."
The Tubocolor range features Biocote technology, which reportedly kills 80% of microbes within 15 minutes, and 99.9% within two hours, and will last the product's lifetime. The grab rails are available in a variety of colours, including colours suitable for dementia care. Intastop said: "They are also coated in vinyl, and offer a non-porous finish, unlike other comparable products, which are often powder coated." All the products meet with the guidelines in Approved Document M of the Building Regulations and British Standards, are tested up to 250 kg, and meet stringent loading guidelines up to 150 kg.
Ponte Giulio has over 45 years' experience 'providing specialist products for safe bathrooms', and says it offers 'modern, stylish solutions' for accessible environments.
Other News