Modular theatre and ward suite boosts capacity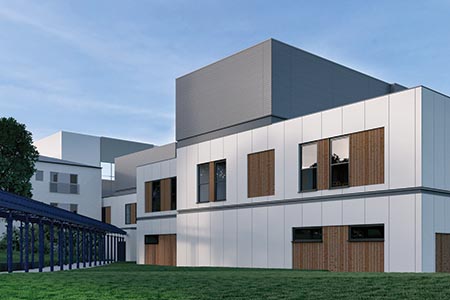 Patients have started using a new theatre and ward complex at Birmingham's Royal Orthopaedic Hospital housed in what its constructor, ModuleCo Healthcare (MCH), dubs 'a state-of-the-art, two-storey modular building'.
Phase one, which opened on December 18, comprises two orthopaedic operating theatre suites with a six-bed recovery suite and a 12-bed inpatient ward, including two young adult rooms. The second phase, due for completion in 2020, will add two further theatres and an additional 11 beds. Once completed, an extra 2,500 patients will be treated annually, with the facility creating around 130 new jobs.
The project has been delivered by MCH in conjunction with sister modular building company, ModuleCo. MCH secured a managed services agreement with the Trust, which agreed to a longterm commitment of an initial 10 years, with the rental inclusive of the facility, enabling works, and theatre and ward equipment. Alan Wilson, managing director of MCH, said: "An ever-growing number of Trusts are choosing to increase their capacity by going modular. The appeal centres on the quality of product, the speed of delivery, and the minimal disruption to site. We deliver the modules in a single weekend, and within 8-12 weeks they are fully operational."
The Royal Orthopaedic Hospital is one of Europe's largest specialist orthopaedic units, performing around 3,000 hip and knee replacements annually.
Other News