Bacteria eliminated via 'pioneering' door handle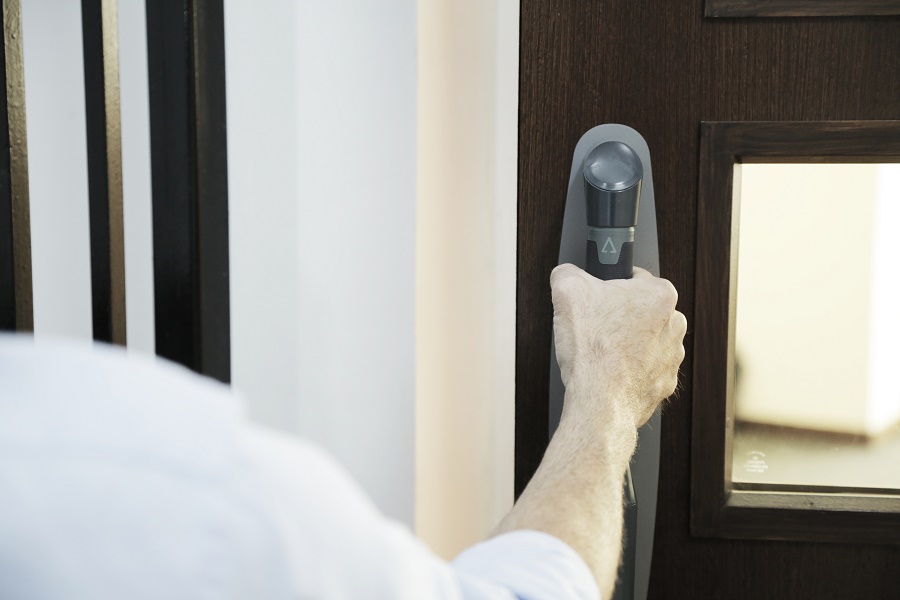 A Glasgow-based company is producing a 'pioneering' hygienic door handle which it says 'eliminates bugs within seconds, reducing the cross-transmission of infectious bacteria and viruses'.
Developed by Glana, the Axiene VH01 Clean Touch system is designed to kill 'over 99.999%' of bacteria, with the disinfectant used said also to be effective against viruses, 'providing continuous active disinfection on the handle touch surface using a bespoke, certified fluid'.
Founder and MD of Glana, Chartered Engineer, Ian Graham, said: "Independent lab analysis verifies that Axiene provides broad spectrum protection against harmful germs and viruses like E.coli, ENT, and MRSA, and other pathogens such as Coronavirus that multi-occupancy facilities such as hospitals and schools regularly suffer from. Laboratory results show that the Axiene touch surface continually achieves a surface cleanliness which hugely exceeds the requirements quoted in international standards for healthcare and food sectors, making Axiene ideal for common use buildings such as hospitals and other healthcare facilities.
"When someone touches the Axiene handle," he continues, "they're touching a continually disinfected and safer surface, as the fluid kills any bugs within seconds, keeping the handle protected for both them and the next person. This means you're not leaving your bugs or picking them up from the person before you, which helps prevent infection spread."
Axiene VH01 is based on a standard pull-handle form and size, and, without any need for power or other connections, is straightforward to fit, and can replace existing pull handles. It requires only simple maintenance by existing staff, while with the protective fluid not consumed on a shot-per-use basis, the fluid will reportedly last longer than existing gel dispenser products. Ian Graham explained: "Unlike a number of competitor antibacterial door handles, which principally dispense gel onto the user's hands, the design of the Axiene VH01 sees the antibacterial gel cover the door handle itself. In addition, each dispense uses only very small quantity of the liquid, so in normal use a reservoir should last anything up to a week."
Glana is currently talking to customers and end-users to explain the system's benefits. One potential user is a major Scottish university, in conjunction with which Ian Graham is undertaking a trial. He explained: "This has entailed comparing colonisation on an Axiene handle fitted to a door at one end of a corridor within the university with a standard door handle at the other via weekly swabs. The results to date show counts of between 20,000 and 55,000 cfu on the untreated handle, compared with around 10 cfu on the protected one."
With the capacity to have the new door handle manufactured on a large scale via local injection-moulder, Melton Plastics, Ian Graham is particularly looking to talk to NHS Trusts and Health Boards keen to see, and or trial, the new device. He added: "I have been working to perfect the Axine VH01 for a number of years, working closely with product design company Filament PD, and Melton Plastics, and am really excited to now have the system ready for a full-scale launch."
Other News
Featured Supplier

PPL Training is an industry-leading UK and International provider of Safe Systems of Work, Technical, Legionella (Water Hygiene) and Compliance training. Combined, we have an extensive portfolio of over 100 accredited courses. Our team is comprised of highly-experienced Authorising Engineers, Authorised, Competent and Responsible Persons, allowing us to develop in-house courses that are tailor-made for those working with Electrical High and Low Voltage, Mechanical & Pressure and Ventilation systems.
Upcoming Events
Croke Park, Jones' Rd, Drumcondra, Dublin 3, Ireland
16th - 17th May 2022
Access the latest issue of Health Estate Journal on your mobile device together with an archive of back issues.
Download the FREE Health Estate Journal app from your device's App store