Assa Abloy Entrance Systems
Unit 9
Windmill Business Village

Sunbury on Thames
Middlesex
TW16 7DY
United Kingdom
+44 (0)333 006 3443
COMPANY INFORMATION
ASSA ABLOY Entrance Systems design, install, maintain, repair and modernise automated entrance products for all market sectors. Where our experts offer systems and solutions tailored to end-users in retail, hospitality, healthcare, commercial and office facilities among others. Automatic entrances connect people, places and goods seamlessly and efficiently. We enhance flow and convenience in your building by providing innovative and reliable automated entrance solutions for the front, back and interior of every building.
ASSA ABLOY has built an impressive reputation in our industry by providing an innovative and wide product portfolio to deliver cost effective and exceptionally reliable solutions where convenient, safe, secure, attractive and sustainable entrances are required.

Pedestrian Door Systems include:

Sliding doors, smooth, quiet and reliable for every interior and exterior application
Hermetic Sliding doors especially designed for use in clean room environments
Swing doors, to maximize opening width in minimal spaces
Revolving doors, ideal when climate control is a priority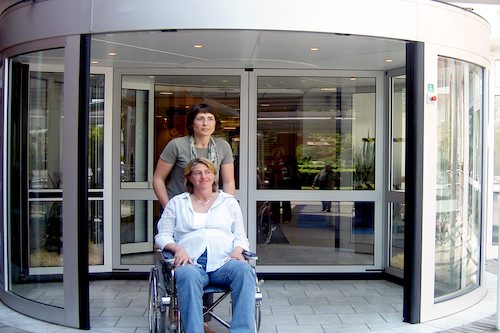 Complete entrance solutions for Healthcare
The main entrance, infection clinic, surgery area, X-ray rooms, operating theatres, kitchen areas and emergency rooms all have entrances, but their demands differ. This is why every hospital and residential care home and healthcare facilty requires tailored solutions for each location. ASSA ABLOY Entrance Systems provide added convenience, security and safety for staff, for people with mobility or sensory impairment.
In a time of increased awareness of infectious disease and hazardous biological materials, our products help to maintain and improve safety when isolating sensitive areas like surgeries, infection wards and controlled environments. Quality automated entrance solutions can help reduce costs, save energy and prevent damage to doors and other equipment, while also improving internal logistics and generally making life easier for all users.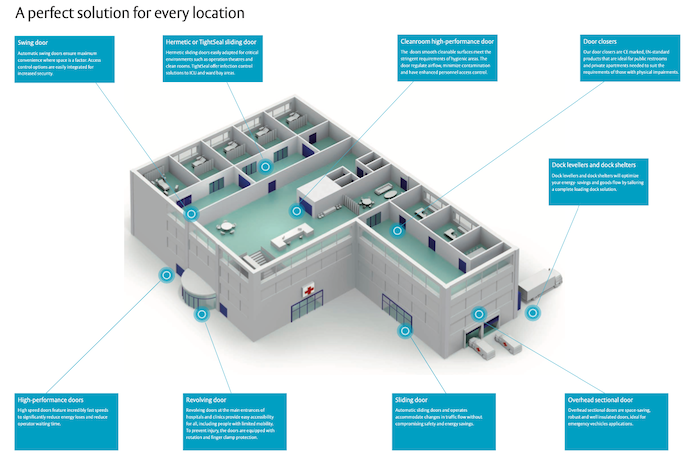 PRODUCTS AND SERVICES