Barts switches on its first CCHP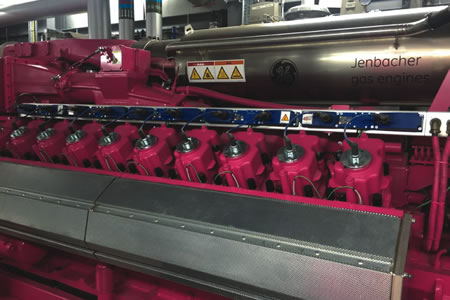 On 24 March Barts Health switched on its first CCHP engine at St Bartholomew's Hospital in London.
The hospital site is one of five acute sites operated by the Trust, and hosts both some of the NHS's oldest estate – with buildings dating back to 1123, and some of the newest, with the completion of a 10-year PFI hospital build recently completed. The CCHP project, delivered as part of the 'Powering Health' partnership, marks the first fully funded, fully guaranteed Energy Performance Contract (EPC) model integrated into a PFI build, explained Fiona Daly, Barts Health's associate director for Sustainability. She said: "This project is a testament to the partnership approach we take at Barts Health NHS Trust. The engine's commissioning represents three years of focused effort from all the partners – Skanska, GE, SDCL, and Clarke Energy – to overcome technical and contractual challenges, but its proof of concept – to fully integrate into an existing PFI contract – is one we hope will have benefit far outside Barts Health."
The engine, painted pink to help raise £100,000 to support cancer services at the site, will save the Trust nearly £500,000, and 2,492 tonnes of carbon, annually.
Richard Byers, head of Green Business for Skanska, added: "We are delighted to get to this key point in this landmark project. To incorporate an EPC within an existing PFI structure required all parties to truly partner. It has been a pleasure working with Barts Health, who have had the passion and tenacity to drive the concept through."
Other News