Keypad facility for 'intelligent' access control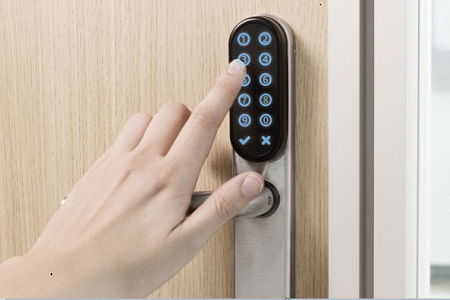 Abloy UK's recently launched updated version of its SMARTair standalone intelligent access control system comes with keypad functionality, allowing users to quickly and easily program an individual keycode or card on the unit itself.
The simple user interface, and SMARTair keypad controls enable programming with an additional code or card 'in under one minute'. Like its predecessor, the new SMARTair escutcheon can be incorporated into existing systems, with the adaptable design suitable for a range of installations. Abloy UK said: "The new keypad gives an additional method of entry for users, so is ideal for a range of organisations, including hospitals or small offices."
The standard package will be made up of three main components – an Abloy EL160 lock case, an Abloy SMARTair escutcheon with keypad unit, and an ABLOY NOVEL patented cylinder. Every time the door locks, the EL160 will re-deadlock, while the SMARTair handle will allow egress from the inside, with the outside handle remaining disabled until a valid code or entry credential is presented. The patented cylinder maintains a secure mechanical form of entry at all times. The units will also work with standard MiFare technology.
Other News