Cabinet re-shuffle heralds new Health Secretary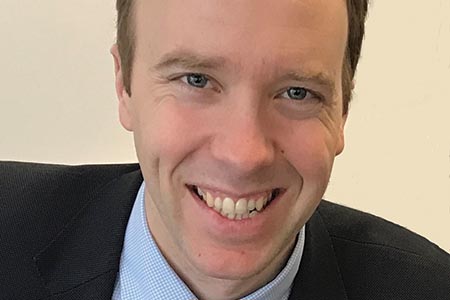 Matt Hancock (pictured), the MP for West Suffolk, has taken over as Secretary of State for Health and Social Care from Jeremy Hunt, who has been appointed Foreign Secretary following a Cabinet re-shuffle by Prime Minister, Theresa May.
His appointment to the pivotal healthcare role in the NHS's 70th Anniversary Year comes in the wake of the resignation of both Boris Johnson as Foreign Secretary, and Brexit Secretary, David Davis, over disagreements on the UK's Brexit deal.
Having been elected in the 2010 General Election, Matt Hancock served as a backbench MP on the Public Accounts Committee and the Standards & Privileges Committee, entering government in September 2012. He has since served in a number of Ministerial Roles, including for skills and business, and as Paymaster General. He has also overseen the expansion of apprenticeships, and 'championed the digital transformation of government'. Secretary of State for Digital, Culture, Media and Sport from 8 January to 9 July this year, he was previously Minister of State for Digital from July 2016 to January 2018.
Before entering politics, he worked for his family business, as an economist at the Bank of England, and as Chief of Staff to the Shadow Chancellor of the Exchequer. He holds degrees from Oxford and Cambridge Universities
Other News
Featured Supplier

ARI-Armaturen UK Ltd is a subsidiary of a large German valve and steam trap manufacturer with over 60 years of experience specialising in control, isolation, safety and steam trapping of liquid and gaseous media. With an extensive range of valves, steam traps and engineered systems, we have the capacity to offer tailor made solutions to industry...