Pegler to show latest integrated piping systems in Manchester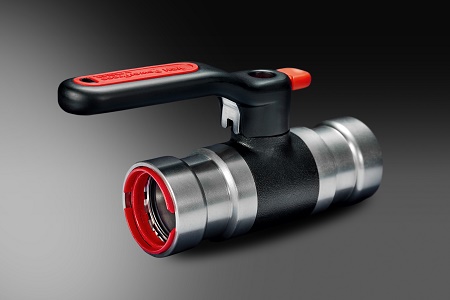 Visitors to the Healthcare Estates conference and exhibition in October will be looking for the latest and most innovative products to support their building and maintenance requirements.
In response, Pegler, a leading innovator and manufacturer of integrated piping systems, will showcase its range of products and solutions on stand C45. "Exhibitions such as Healthcare Estates allow us to showcase many of our products to key industry personnel," said Phill Jackson, Marketing and Business Development director. "We are an innovative company, and as the only manufacturer to offer a truly integrated piping system, can offer and develop solutions and products for applications ranging from the from plantroom, to the bathroom, and beyond."
One such system that will be shown is the recently launched VSH PowerPress. This thick-wall system is suitable for a range of applications, including heating, cooling, sprinkler, air and oil; the range will connect steel systems including black steel, epoxy-coated, and galvanised. VSH PowerPress also combines the best press technology, for which Pegler say it is 'renowned', and negates the need for heat, 'which provides all the associated benefits', including clean joints, no flux requirement, faster installation times, and a safer working environment, ensuring an easier installation overall. In addition, VSH PowerPress a incorporates a fail-safe 'leak before press indicator', and advanced 'O' ring protection.
A comprehensive range of adapted valves will also be on display; designed to complement the system, these will include Gate, FODRV, Venturi DRV, PICV, Swing Check, Double Check, PRV, and Strainer.
Phill Jackson continued: "We understand the demands placed on those specifying for both new-builds and retrofit projects, and how sourcing a highly efficient system that can address the needs of the building and its occupants is of the upmost importance. Our entire range is designed to support these requirements , and to satisfy a range of key criteria – from functionality and ease of fitting ,through to efficiency and longevity. With the additional support offered through our team of experts, our customers can be assured that whatever system or valve requirements they have, Pegler will be able to deliver."
The company's compatible TMV 3/2, which Pegler says which 'offers compliance and safety to the required standards of the Health Technical Memorandum 04:01 Supplement', will also be showcased.
Further information about Pegler and its solutions can be found at www.pegleryorkshire.co.uk
See more about Pegler Yorkshire
Other News