Milestone reached in £98 m Heatherwood Hospital's construction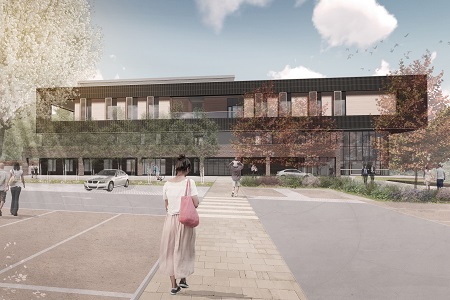 A 'topping out' ceremony has taken place at the new £98 m Heatherwood Hospital, which will provide NHS services to patients in Berkshire and beyond. Work on the main structure of the hospital, in Ascot, which has been designed by architects, BDP, and is being built by Kier for Frimley Health NHS Foundation Trust, is complete less than a year after work began. The hospital will provide six operating theatres, outpatient services, and up-to-date diagnostics 'in a superb new building set into woodland'.
Ascot has been home to a hospital at Heatherwood for almost a century, but with ageing facilities, and a growing need for investment, its long-term future was in doubt as recently as five years ago. Frimley Health's ambitious plan has seen a new building at the back of the current hospital site take shape while existing services stay fully operational. Services are on track to transfer to the new building next year, and the Trust aims to double the number of patients visiting annually to 168,000 over the next decade. The topping-out was attended by representatives from Frimley Health and Kier, BDP, project managers, construction consultants, Potter Raper, planning consultants, Vail Williams, and local healthcare partners.
Sean Woodhead, architect associate for BDP, designers of the new hospital and wider masterplan, said: "Like the healthcare that will be on offer in the new Heatherwood Hospital, we have taken a holistic approach to designing both the masterplan and the hospital, ensuring that wellbeing is at its heart for generations to come. The overall design draws in the landscape to maximise its links with nature, support recovery, and create a calm and natural environment for the offices, primary care facility, and the homes to come. Patient bedrooms will have views across the treetops and access to terraces. The café space will offer woodland views, and there will be a large and biodiverse pond area and nearby nature walks. Reaching the construction's highest point has given us a real sense of the hospital's connection with its stunning natural setting, and the benefits this will bring for patients, staff, and visitors alike."
Frimley Health CEO, Neil Dardis, said: "Our board gave the green light just a year ago, and it is remarkable how much progress has been made since then. Kier are doing a fantastic job. It is so exciting to reach this milestone, and to have the completion of the new hospital in sight. It will be among the best facilities of its kind in the NHS, and we will finally have the facilities that our fantastic Heatherwood teams and the patients they care for deserve."
The new hospital will include:
Six operating theatres;
48 inpatient beds, plus 24 day case cubicles;
General surgery, antenatal, paediatric, and physiotherapy services;
One-stop clinics, including breast and urology;
Enhanced cardiology diagnostics;
Orthopaedics;
Private patient facilities.
Martin Reilly, Operations director for Kier Regional Building Southern, said: "We always look to leave a lasting legacy in areas in which we build. Working collaboratively with Frimley Health NHS Foundation Trust, we have engaged with the local community throughout this project, as well as providing training opportunities for those who are considering a career within the built environment."
A symbolic brick was laid at the top of the new building as part of the topping-out ceremony, and Martin Reilly presented Neil Dardis with an engraved trowel.
Other News