Liverpool cancer hospital nicknamed 'The Liner'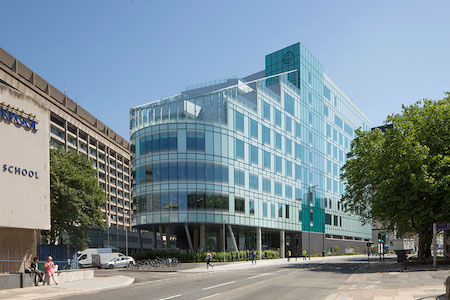 The maritime city of Liverpool has a striking new form on the city skyline, that of the curving prow of Clatterbridge Cancer Centre – Liverpool (CCC-L), already nicknamed 'The Liner'.
The spectacular cancer hospital, in the city's Knowledge Quarter, will open on 27 June as part of a £162 m investment to transform cancer care in Cheshire and Merseyside. It will become the main hub in The Clatterbridge Cancer Centre NHS Foundation Trust's network of treatment centres across the region. The 11-storey building incorporates 110 single en-suite patient bedrooms and five radiotherapy linac treatment suites, stepping back in profile at its upper levels to create external terrace spaces for wards, especially for the chemotherapy floor. These offer panoramic views across Liverpool.
The elevation has a variety of transparent, translucent, opaque, and graduated glazed fritted panels in a unitised cladding system, which sit on a more substantial brick plinth at street level. BDP, which provided architecture, landscape architecture, interior, and graphic design, with Laing O'Rourke as main contractor, and AECOM providing engineering services, said: "Despite its restricted urban context, the building enjoys a new beautifully landscaped urban public space with car parking below. This also allows daylight to permeate the plan, penetrating deep into the radiotherapy waiting area at semi-basement level, which is adjacent to a winter garden."
Architect Principal, Ged Couser, said: "This highly glazed building will become a beacon for cancer care in Liverpool and the wider region. Its modern sophisticated external skin is a clear expression of the cutting-edge research and care taking place within. Even in its tight urban context the internal spaces will have access to high quality external landscape, recognising the therapeutic value this brings."
Dr Liz Bishop, Chief Executive of The Clatterbridge Cancer Centre NHS Foundation Trust, said "Clatterbridge Cancer Centre – Liverpool is the culmination of an eight-year vision that will bring state-of-the-art facilities and pioneering treatments to a region with one of the highest rates of cancer in the country. BDP's truly stunning design for the new hospital rightly reflects the significance of this flagship development."
Other News