Wireless bed exit alert to help prevent falls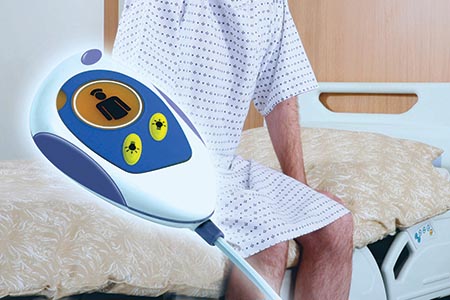 Static Systems says that, 'with a high level of inpatient falls continuing to challenge the NHS', the new bed exit alert to its Lnx wireless connectivity system will help alert staff 'within the shortest possible time' that a patient has left their bed.
Lnx Bed Exit Alert is a selfcontained solution easily retrofittable to a nurse call system in a matter of minutes. The existing patient hand unit is simply replaced with its Lnx equivalent, and paired to a pressure mat placed on the floor alongside the patient bed. Static Systems explained: "With no need for additional infrastructure or reprogramming, the pressure mat forms an integral part of the nurse call system, adopting the characteristics of other patient-to-staff alarms, including follow-the-light operation, and alerts at the nurse station and smart devices. The equipment is portable, so can be easily relocated to an alternative bed area as occupancy changes.
"Another benefit of integrating bed exit alert with the nurse call system is that bedhead, room, and en-suite lighting can be automatically switched on at a specified level as the patient steps onto the mat."
The Lnx system also supports remote nurse call buttons, special needs call units, and bedroom door alarms, as well as providing a convenient connection point for third-party systems, such as enuresis alarm and infusion pump alert.
See more about Static Systems Group Plc
Other News