'Drive-through' Covid-19 testing facility set up in Porto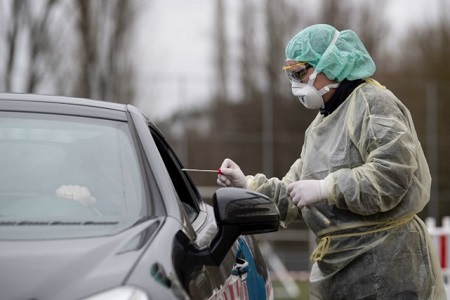 Unilabs, a European diagnostic services provider, has set up a 'drive-through' facility in Porto in Portgual to collect samples from suspected Covid-19 patients, believed to be among the first of its kind in Europe. "The opening of this temporary drive-through facility allows us to serve the urgent needs of our community, and takes the pressure off hospitals struggling with the flood of patients requiring sample collection and analysis," said Luis Menezes, CEO of Unilabs Portugal. "The key benefit is safety."
After making an appointment, patients drive to the collection point, where they roll down their windows to be tested by trained medical staff in protective clothing. By remaining in their own vehicles throughout, patients minimise contact with other people, 'reducing the risk of infection for everyone – patients, medical professionals, and the general public'.
The system is allowing some 400 daily tests to be performed in the first phase, with the number tested expected to risie to nearly 700 day 'over coming days'. The facility is being kept safe by local law enforcement.
Unilabs currently performs Covid-19 testing in Switzerland, Sweden, the Netherlands, Portugal, Slovakia, and the Czech Republic. As well as drive-through facilities, the company is also working on home testing kits. Both solutions will be rolled out across the group as soon as Unilabs is authorised to start testing by local authorities.
Other News