New molecular sciences 'research hub' opens in London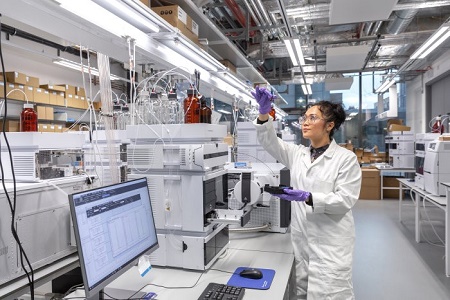 Imperial College London has opened its biggest new academic building in a generation, describing the £167 m Molecular Sciences Research Hub on the College's White City Campus as 'the UK's most significant scientific development since the Francis Crick Institute, and the largest investment in a university building in 21st century London'.
The new facility was opened by the Mayor of London, Sadiq Khan, with Imperial's President, Alice Gast, Science Museum Group chair, Dame Mary Archer, and Bernard Taylor, chair of the Royal Commission for the Exhibition for 1851. Said by Imperial College to be 'designed to break down traditional barriers between scientific disciplines', the Molecular Sciences Research Hub will bring together the collective expertise of over 800 scientists, clinicians, engineers, and business partners under one roof, 'to address global challenges across areas such as energy, healthcare, and sustainability'.
Imperial College's 'world-renowned' Department of Chemistry has relocated to the Hub after over a century in its historic South Kensington home. This legacy is marked by the original 1846 foundation stone, placed by Prince Albert, which is now housed in MSRH.
Imperial College says the new Hub 'will support innovative molecular-based science and engineering' – from chemistry through to its interfaces with materials and biology, with a focus on six core research themes: chemical biology and healthcare; energy; environmental and green chemistry; imaging, sensing and analytical chemistry; materials and molecular design, and synthesis and catalysis.
Speaking at the launch event, Sadiq Khan said: "As I was touring the laboratories I met Londoners originally from New Zealand, Singapore, Malaysia, Italy, Spain, and Denmark, all proud Londoners. Come what may with Brexit, London will, as President Gast said, always be a global hub for innovation, technology, and business. That's why it's so important we must pursue bold, innovative projects like the Molecular Sciences Research Hub. This new hub speaks to our ambitions as a city. It's about our future, and how we can harness human ingenuity, science, and technology, to solve many of the major challenges we face, while improving the lives of Londoners and fellow global citizens."
Professor Alice Gast added: "The Molecular Sciences Research Hub puts London at the forefront of a scientific revolution. This extraordinary facility will allow Imperial's leading academics, brilliant students, and collaborators, to make scientific breakthroughs and innovations to benefit society. From understanding disease at a molecular level, to developing clean energy technologies, White City will be home to some of the 21st century's most exciting scientific advances."
Professor Tom Welton, Dean of the Faculty of Natural Sciences at Imperial College London, said: "Molecular science is a whole new way to approach chemistry. In my group, for example, the cooking of chemicals is becoming mathematical: we no longer think about coloured liquids, but use new tools as a mathematical launchpad for everything from designing new energy sources, to finding more efficient ways to synthesize chemicals. The Molecular Sciences Research Hub is the world's first major academic building designed for the future of chemistry."
Imperial College says the Hub will 'push forward the molecular sciences as the disciplines increasingly tackle key societal challenges', including those of the UK's Industrial Strategy Grand Challenges. 'State-of-the-art' laboratories will be strengthened by new prototyping facilities and business incubator spaces, 'to encourage entrepreneurial thinking and help turn scientific discoveries into commercial products and services'.
Among the Hub's technical and laboratory areas – clustered around a full-height atrium and 250-person lecture theatre, is the Centre for Rapid Online Analysis of Reactions (ROAR) the – the UK's first national centre for the study of reactions, focusing on data-centric chemistry.
Other News