Pre-plumbed sanitaryware saves time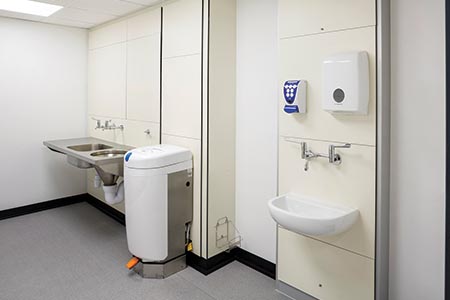 Venesta's Vepps pre-plumbed sanitaryware – reportedly the sector's first precision engineered pre-plumbed panelling system with a click-fix assembly into an aluminium frame – has been extensively used throughout two new short-stay inpatient wards at the Queen Elizabeth Hospital, Woolwich.
Operated by the Lewisham and Greenwich NHS Trust, the hospital – the Trust's Medical director, Dr Elizabeth Aitken, explained – 'often receives more ambulances than any other hospital in London'. She said: "In the past we simply haven't had enough space for all our patients after they have been seen in A&E, which warranted the construction of two new short-stay inpatient wards."
Venesta said: "With a tight schedule, Vinci Construction, a previous user of our pre-assembled products, suggested our Vepps sanitaryware." Venesta's Vepps 'Healthcare' range was used throughout the wards' en suite, shower, and dirty utility rooms, with all sanitaryware pre
The plumbed and tested at the company's manufacturing facility, saving time and reducing labour on site. Venesta says choosing Vepps enables sanitaryware installation to be completed 'up to 75% faster than via other traditional methods'. The system also reportedly offers 'easier ongoing maintenance'.
Vinci's Commercial director, Kevin Millen, said: "The pre-installed sanitaryware provided a better quality finish and a programme advantage". Venesta said: "Vepps has been specifically engineered to achieve the highest quality finish in the shortest amount of time on site. We supplied more than 40 boxed-out handwashing units. The hospital required hassle-free maintenance, achieved via our linearbearing hinged and lockable duct access panels that require no manual handling."
Other News