Architects engaged in design of therapeutic headwall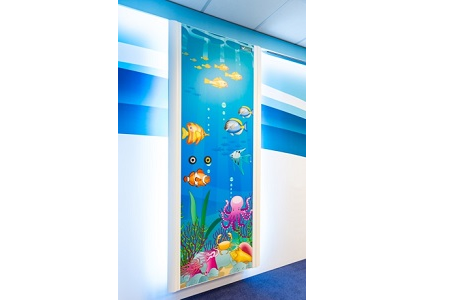 Static Systems Group's latest bedhead services trunking solution, Vistr Headwall, has been designed specifically to help create a therapeutic healthcare environment conducive to patient wellbeing and a speedy recovery.
Created following consultation with architects and project teams, Vistr Headwall features a decorative graphic fascia incorporating light and colour. Manufactured 'to an uncompromising standard' using-flame retardant materials, the graphic can be specified by the architect to complement the ward or building décor at the installation site.
Matt Clutton, Static Systems' Product manager, said: "Vistr Headwall has been designed to incorporate all the essential patient bedhead services, including medical gases, nurse call, electrical sockets, and lighting, providing clinical staff with easy access to them, but keeping them out of direct sight of patients and visitors. Medical gases and staff indicator screens can be integrated in the fascia as required."
Vistr Headwall is available with a range of LED lighting options, including colour washing – 'to help patients feel more relaxed and ultimately assist in a speedy recovery', practical, PIR-controlled lighting that automatically illuminates at low level as the patient leaves their bed during times of low light, and lighting that quickly guides staff to the appropriate bedside in the event of a patient call or cardiac alarm.
See more about Static Systems Group Plc
Other News