Ideal Standard opens £1 million Clerkenwell showroom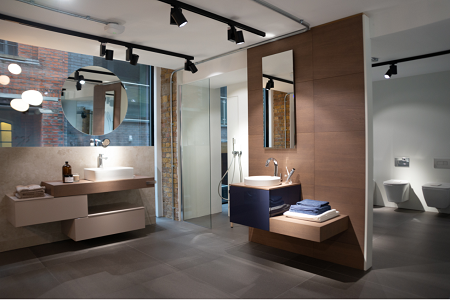 Ideal Standard International, the bathroom solutions manufacturer, has seen its new £1 million Clerkenwell showroom opened with 'a day dedicated to insight and design inspiration'.
The four-storey 'design and specification hub' was officially opened by Group CEO, Torsten Türling, and UK MD, Stephen Ewer, on 26 June. The London Design and Specification Centre was created to bring together a variety of industry professionals, from architects and designers to project developers and specifiers. The 'Italian-inspired' launch event reflected this, with discussions between Ideal Standard's chief design officer, Roberto Palomba, and long-standing design partner, Robin Levien, on developing attitudes, trends, and influences, around bathroom design.
Ideal Standard recently announced its exclusive partnership with renowned design studio, Palomba Serafini Associati, and the appointment of Roberto Palomba as chief design officer. The new showroom houses several 'inspirational collections' born out of this collaboration, including 'a beautiful new palette' for the Ipalyss basins. The company said: "The new flagship space also showcases another example of Studio Palomba Serafini Associati reinterpreting a classic masterpiece with the new Conca basin collection, which takes inspiration from the original, designed in 1972 by Paolo Tilche – a range that signalled a shift from pure practicality to a combination of form and function in the bathroom."
Other brands in the Ideal Standard 'family' are also featured, with 'innovative healthcare and commercial washroom solutions' from Armitage Shanks.
Stephen Ewer, UK managing director, Ideal Standard, added: "Whether it's supporting our NHS in reducing infection spread in hospitals, or helping luxury hotels and developers become more aspirational with beautiful basins, better and considered design is the key that has always allowed us to keep moving forward. This showroom, which allows specifiers, designers and architects to share ideas and develop together, is an important step towards better understanding the today's need and tomorrow's demands."
Other News