Deanestor completes £1.1 m furniture contract at new Royal Papworth Hospital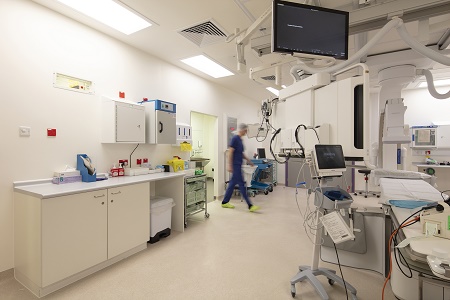 In its fifteenth healthcare project for Skanska to date, Deanestor, a leading UK contract furniture manufacturer for the healthcare sector, has completed a £1.1m contract for the supply and installation of furniture and fittings for over 1,600 rooms for the new Royal Papworth Hospital – a specialist heart and lung hospital.
The scheme involved the manufacture of nearly 2,000 base and wall cabinets, shelving units, and worktops for areas including operating theatres, cardiac catheterisation laboratories, pharmacy, isolation wards, en-suite bedrooms, utility rooms, staff changing facilities, the library, and offices. The fixed and loose furniture was manufactured and pre-assembled at Deanestor's Mansfield factory.
A highly durable white finish for the wall and base units was specified for the clinical areas, with light grey laminated worktops. All these items were designed for longevity and to meet stringent infection control requirements. Furniture manufactured for the office areas had a wood grain finish.
In addition to installing its manufactured furniture, Deanestor fitted over 12,000 other items across the new hospital, including controlled drug cabinets, mirrors, fridges, noticeboards, and fire extinguishers. It also manufactured kitchen units for 15 staff rest rooms and beverage bays, and installed over 1,600 integrated panel systems, pre-fitted with basins or toilets.
Francis Breen, Construction director at Skanska, said, "Deanestor offered the most competitive solution for this project. We needed a combination of high quality, durable, and functional furniture that would meet the highest infection control standards. The Deanestor team engaged well with this complex construction scheme, and had a positive attitude throughout."
Colin Glen, Clinical project manager at Royal Papworth Hospital, said, "Our requirement was for good quality furniture that had longevity – furniture that would be resistant to damage and that is well designed to avoid settling of dust and maintain infection control. Deanestor has provided great quality products which are exactly what the hospital needed."
Other News