Integrated theatre AV solutions added to portfolio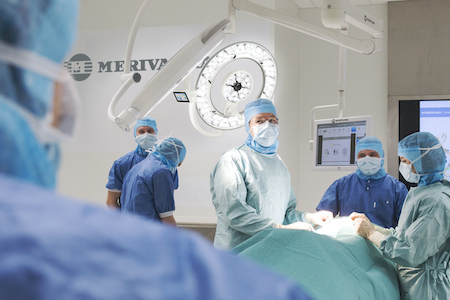 Integrated theatre AV technology has been added to the extensive portfolio of hospital solutions offered by Bender UK. The complete Merivaara OpenOR system is exclusively supplied and installed by Bender UK in the UK and Ireland.
The technology enables complete integration of all medical devices and image sources within the theatre environment, and displays all images at near-zero latency (guaranteed at less than one frame) without resolution loss. Merivaara OpenOR also allows procedures to be viewed and streamed outside the operating theatre, enabling clinicians and students to consult and view live surgeries from other locations.
Bender UK said: "This intuitive system has a user-friendly touchscreen interface which allows control of image routing, medical device control, and live streaming, as well as remote surgeon access to live and stored images, image capture, and video recording and editing. The medical grade touchscreen can be positioned in the sterile environment, wall, or desk mount. It also enables PiP and PaP on displays that do not have those features."
Vendor-neutral, the OpenOR does not limit the connection of image sources from specific manufacturers, including mobile devices brought into theatre. It connects to the Hospital Information System and PACS for patient worklists and data integration.
Gareth Brunton, managing director of Bender UK, said: "The backbone of the technology is a fibre-based Barco Nexxis infrastructure which allows OpenOR to display uncompressed video for perfect images without artefacts or resolution loss with near-zero latency. This is guaranteed to less than a frame. The resolution that OpenOR works with is also future-proofed to 8K and beyond; the system is currently HD, 3D, 4K, and 4K3D compatible."
One of the major benefits of a hospital introducing an integrated operating theatre AV solution is training, eliminating the need for students to stand close to surgeons to see what is taking place. It also allows live procedures to be transmitted to seminar rooms or to other hospitals.
Gareth Brunton added: "The addition of the Merivaara AV system to our portfolio means we can provide our healthcare customers with a complete turnkey solution, including Merivaara operating tables, theatre lights, pendants, digital imaging, and medical IT power, including Uninterruptible Power Supplies (UPS) for Group 2 medical locations."
Other News
Featured Supplier


Medstor – Total Space Utilisation
Medstor creates order out of chaos.  Our comprehensive range of healthcare storage solutions helps your hospital department to function as efficiently as possible, and look good, too.  Every element of each racking system or cabinet has beautifully simple, clean, sleek lines that not only complement the...