Bespoke lighting for expanded Chelsea & Westminster facilities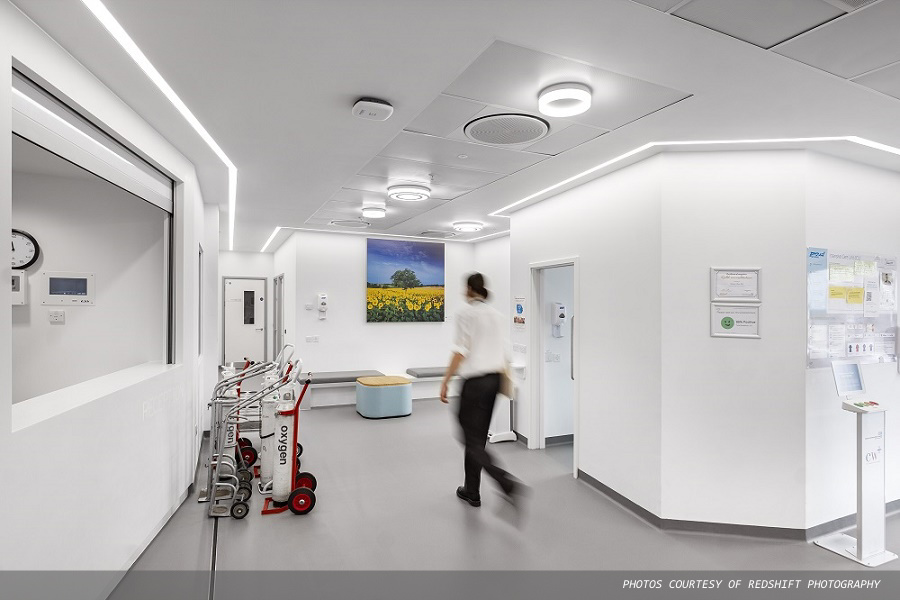 Zumtobel Group, with its lighting brands, Zumtobel, Thorn, and acdc Lighting, has organised and supplied the concept and design, and supplied the lighting and controls for, a new Critical Care Unit (CCU) at London's Chelsea and Westminster Hospital.
In the same locatiion, but 45 oper cent larger, the new CCU includes private bed areas, in-built space for a patient's partner or relative to rest, and technology to connect patients to loved ones. Zumtobel has also supplied lighting and controls for an expanded Neonatal Care Unit (NICU), which remains in the same location, but has more cots, additional space and privacy around each, and enhanced parent and family facilities. It was asked to provide a solution which would not disrupt the hospital's day-to-day running, with a phased handover and sectional completion. The scheme also required a modern, energy-efficient lighting solution, and the ability for a dynamically controlled environment, through the use of a sophisticated lighting management system.
Zumtobel's tuneable White Slotlight infinity was chosen to provide the optimal conditions for patient recovery. The company claims it was only lighting company able to offer a continuous light line in varying angles without breaking the line of light, or producing shadow gaps, with the added benefit of the ability to change the colour temperature. A recessed installation within plasterboard combined with the continuous diffuser, affords the luminaire a high degree of ingress protection (IP54) to aid cleaning and maintenance.
The Slotlight infinity system with tuneable white technology, in various lengths and custom angles, was installed throughout the wards and around the bays. These areas proved 'a complex challenge', with considerable time afforded to planning and mapping.
Spotlight infinity tuneable white is a 'modular, but fully integrated' system, with 'consistent lighting quality in virtually end-to-end illumination'. Zumtobel said: "Tuneable white luminaires create different atmospheres and change the ambience of a space throughout the day, which can bring health benefits by supporting circadian rhythm. Circadian light improves sleep quality and daytime wakefulness, while making nursing and care a more positive experience for both patients and staff."
Slotlight infinity RGBW (incorporating red, green, blue, and white chips) illuminates the cot areas in the NICU and bay areas in ICU. "Apart from providing perfect natural white light," Zumtobel explained, "RGBW can generate pastel colours and various additional mixed colours for different atmospheres." The same lighting also illuminates the handwashing areas before one enters a ward, 'turning blue to indicate an essential handwashing stop'.
Slotlight infinity offers a continuous line of light throughout the corridors in the NICU and ICU departments.
Meanwhile, Zumtobel's Panos infinity downlights illuminate the circulation and reception areas, and Kava recessed wall lights provide indirect nightlight in the bays.
Thorn's Omega Pro illuminates the offices, utility areas, cleaners' rooms, and circulation areas, while Katona, a 'cutting-edge' surface-mounted luminaire features in the patient's rest room and waiting areas. Cetus recessed LED downlights with low height illuminate the general circulation areas, while the IT hub and offices have been lit using Thorn's College LED range of curved profile linear fluorescent luminaires.
Other Thorn luminaires installed include Aquaforce Pro – a dust and moisture-resistant LED luminaire, installed in the store cupboards, and Chalice LED downlights for the shower rooms.
acdc supplied Vista, a compact linear LED marker luminaire, which is recessed into the walls in the bay areas, providing a homogenous lit effect, and 'a full wash of colour with no shadowing', due to the tight 20 mm LED pitch and clean acdc opal diffuser.
Zumtobel's 'sophisticated' Litecom lighting controls allow both patients and staff to control the colour temperature and light levels throughout these departments. It added: "The project was turned around and commissioned within a tight timescale, and to the total satisfaction of the Chelsea and Westminster Hospital NHS Foundation Trust."
Other News
Featured Supplier


We have an overriding commitment to develop, manufacture, and deliver on time, products and services that meet or exceed our customer expectations
Source medical equipment
From on-site generation of European Pharmacopoeia quality medicinal air and oxygen to medical vacuum plant and anaesthetic gas scavenging systems we offer you the...
Upcoming Events
Croke Park, Jones' Rd, Drumcondra, Dublin 3, Ireland
16th - 17th May 2022
Access the latest issue of Health Estate Journal on your mobile device together with an archive of back issues.
Download the FREE Health Estate Journal app from your device's App store